Ancient Villages of Vietnam Part 1

Loc Yen Ancient Village in Quang Nam Province
The Loc Yen ancient village in Tien Canh commune, Tien Phuoc district of the central province of Quang Nam, it is about 35km west of Tam Ky city in the middle of the Lieu Mountain Pass by the Tieu River. In the past the Loc Yen ancient village had hundreds of Ruong Houses (Ancient Viet houses) facing the terraced fields. Today 20 of these houses remain, each with its painting like beauty.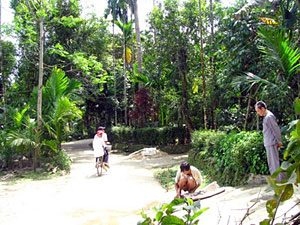 This small village has more than 10 houses that are 200 years old or older. The uniquely designed houses, particularly in Quang Nam Province, are made with jack wood. They often have three rooms and two lean-tos. The backs of houses about the mountain behind, leaning against it. The fronts face a deep stone valley. Such impressive views make these modest houses seem like villas.
Besides, its typical fruit trees, Loc Yen ancient village has stone-paved lanes. Especially, each house has a stone-paved alley which bears a specific feature suitable to the house. Mingling with old houses are newly-built houses, but their old stone alleys covered with moss are still well kept.
Long Tuyen Ancient Village in Can Tho Province
Long Tuyen ancient village locate in the south of Can Tho City. The village used to be a subdivision of Luc Ap before Can Tho Province was incorporated, then it became Binh Hung village during the reign of Thieu Tri king (a king of Nguyễn Dynasty). In 1852, following the arrival of Huynh Man Dat, a province chief who escaped from danger to this site, this village was renamed Binh Thuy.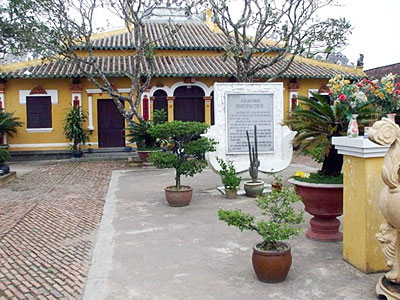 The communal house, which has existed for over two centuries, will bring another side of Can Tho's history with its fine architecture and antiques. Built in the 19th century, the Communal House was named Bon Canh Thanh Hoang on November 9th 1893 by King Tu Duc.
Later the Communal House was dedicated to national heroes including Dinh Cong Trang, Nguyen Trung Truc, Bui Huu Nghia and Vo Huy Tap. It was completely renovated in 1910. If you are an architecture enthusiast, you will recognize that the communal house's architecture is different from communal houses in the north.
The front and the back buildings are square, and its side has six rows of columns, and all the columns' bases are extra-wide, making these buildings more stable. The roofs of the two front buildings were built overlapping each other. The main temple at the rear has three roofs. The top of the roof is covered with statues of people, lions and fish.
In the front of the building, there are many cement columns. Inside the ancestor-worshipping house, there are altars dedicated to worship the animal gods. It is considered a valuable monument of art and architectural style in the newly-expanded south western area.
It can be said that Long Tuyen village is a rare destination that contains various typical characteristics of the culture in this region, and for sure it is a pity if you don't add this destination to your travel.
Duong Lam Ancient Village in the Hanoi Province
Duong Lam ancient village with is located near the center of Son Tay town – Hanoi, and about 60 km west of Hanoi center. This village has been known as a museum of laterite with ancient houses aged up to 400 years old. It is also the only place in Vietnam where two kings came from. After the recognition of Hoi An ancient town and Hanoi old quarter, Duong Lam was recognized as a national relic in 2005.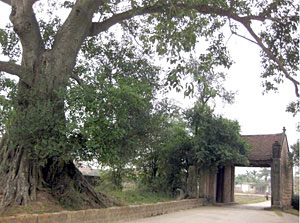 Two of Vietnam's kings, Phung Hung (761-802) and Ngo Quyen (896-944) were born in Duong Lam, giving the village its prestige. Both men led resistance wars against northern invasion and after winning national independence, were crowned kings. After their deaths, the local people built temples in their honor.
The ancient village has a history of about 1,200 years with many houses dating back up to 400 years. One special thing about the village is that most of the buildings here are made of laterite and mud, two materials that are abundant in the area. Laterite is used on house walls, gates, wells, temple walls, and so forth. The mud is taken from ponds. Apart from its historical and tourism values, Duong Lam ancient village is an important place for scientists to study resident communities in ancient agriculture. The village gate, banyan, well, communal house are important factors in classifying Duong Lam ancient village.
A journey to Duong Lam village is a trip to trace back the origin of Vietnam's culture and Vietnam's traditions. This is also the great chance explore architecture of ancient houses while wander along its narrow alleyways, visit temples dedicated to the two kings born there, and most interesting of all, chat with locals living in the ancient houses.
>> VIETNAM TRADE NEWS


Quality Control Inspection Services in Vietnam from Vietnam B2B Direct
Vietnam B2B Direct has been delivering affordable, on site at factory premises in Vietnam, Quality Control Inspection Services and Quality Assurance for over 18 years. ... [Read More...]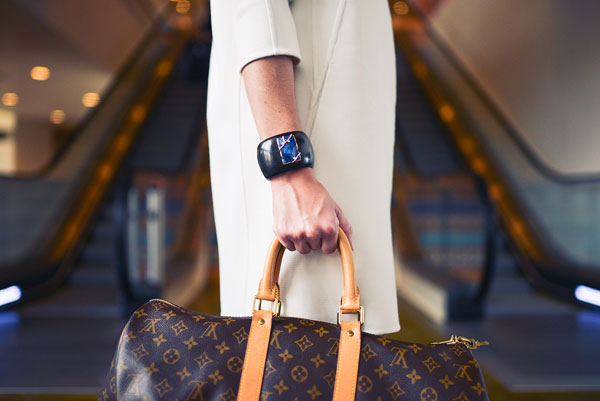 The Bag Industry in Vietnam: Product Sourcing and Low Cost Manufacturing Solutions in Vietnam The modern day bag industry in Vietnam has its roots in a rich cultural history of handicraft artisans ...
[Read More...]
>> BILL GADD, CEO


An International Entrepreneur and Business Leader multi-skilled in business start-ups, marketing, sales, administration, management and leadership for the past 33 years. ...
[Read more ...]
>> MANAGEMENT GROUP
Vietnam B2B Direct's Management Group consists of well educated English-speaking Vietnamese Personnel in its Vietnam operations trained in western business practices.
Our management expertise includes Sourcing Agent Specialists, Business Development and Sales Reps, IT Programmer, Quality Control Engineer, Administration, Field Agents and Content Marketing & Website Management... [read more about Vietnam B2B Direct's personnel ...]
>> CONTACT US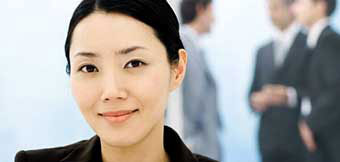 Vietnam B2B Direct - International Trade Solutions Co., Ltd.

Head Office in Vietnam
2A / 20 Bach Dang Street
Ward 2, Tan Binh District
Ho Chi Minh City (Saigon), Vietnam
TEL +84 (0) 28 3844-7055
FAX +84 (0) 28 3842-3662
North American Offices 1-905-376-1700

Download our Company PowerPoint Presentation & Company Profile



Vietnam B2B Direct - International Trade Solutions Company Profile



Vietnam B2B Direct Fact Sheet
For details of new business opportunities and for all your sourcing needs of products and manufacturers in Vietnam, please contact Vietnam B2B Direct ...