Craft Villages of Vietnam Part 1

Phu Cam Conical Hat Village of Hue Province
Hue conical hat or Phu Cam conical hat has not only a beautiful form but also modest color. It is light and so thin that light seems to pierce through it. Through natural light, one can see Hue landscapes with verses engraved on paper placed between two layers of leaves. Hat-making village Phu Cam (also Phuoc Vinh) lies on the southern bank of the An Cuu River in the centre of the former imperial capital of Hue. It's a village famous for its traditional way of making conical hats for hundreds of years.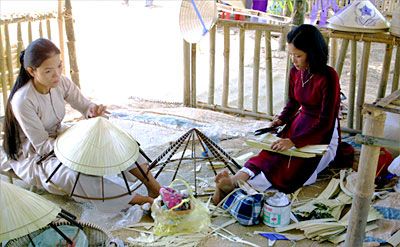 From the front look, Phu Cam-made hats look graceful, soft and thin as silk. Hue landscapes or even poems can be seen clearly through the hats in the sunshine. It takes woman much time to make the frame and iron leaves before young girls start sewing. The beauty and grace of a hat depend much on the frame (made of 16 brims from the hem to the top). Artisans use sharp knives to prepare the brims and make the frame that needs skills, techniques and experiences, as well as mathematical calculations which have been handed down for generations.
The leaves to make hat play a vital part, leaves have to be blue-white, neither too young nor too old. Collected leaves are to be put to dry in the sun, put to be moistened by dewdrops, and then to be ironed flat on a steel- plank above a kiln, cleaned with a towel. After all this, leaves are cut to fit the frame.
Moreover, how to arrange the leaves on to the frame is not easy. Each hat needs 50 leaves and between the leaves are coloured papers with pictures or paintings of landscapes, or even poems. Hat-makers are hardworking and careful and diligent. Hats are served with silk-threads and the chin-straps are made of coloured silk (black, white, yellowish, purple, violet…) to harmonize with Hue climate and beauty.
Most remarkably, poem-hat is a distinctive feature of culture in Hue. Locals say they like to do the job not only to earn money but to preserve their age-old tradition as poem-hats have been absorbed into folk music and songs. Today hat are still used by young girls to shade their heads in the sun and to make them look more graceful in the traditional Ao Dai (long dress).
Chau Giang Brocade Village of Giang Province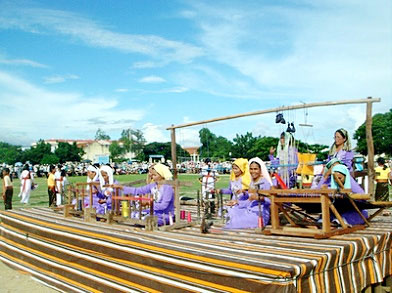 Chau Giang Brocade Village is located in Tan Chau Town, An Giang Province. Chau Giang Village has been well-known with brocade weaving in recent years.
Chau Giang Brocade has not only traditional beauty of brocade but also unique in producing Cham ethnic minority specialty varies with a number of patterns, mostly known are: Xarong.
Chau Giang Brocade is a perfect combination between traditional and modern specialties that nowadays has found its' own name in the domestic market, and many customers abroad.
My Khanh Village of Can Tho Province
My Khanh village is advantages in both waterway and roadway. This is an 8ha eco-tourism area in Vong Cung Boulevard in Can Tho city. With a small amount for the entrance ticket, visitors would feel the purity and vast space under the fruit trees, the small country houses under the green leaves. There are about 20 fruit tree types in My Khanh village such as pomelo, rambutan, jackfruit, durian, orange, etc. There are fruit all year round.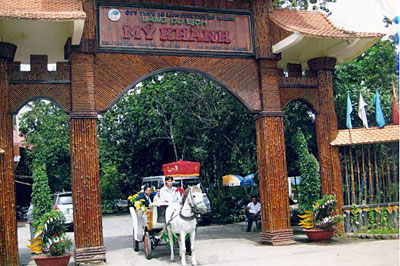 There are various activities in My Khanh villages such as horse tracking, boat trip, tricycle, fish catching, traditional games, etc.
Visitors could visit Cai Rang village in Can Tho for floating market.
Besides, the system of house on tilt is quite convenient, which are suitable for visitors to be in the nature. There are also other programs at night such as fishing at night, boating on river.
Non Nuoc Fine Art Village of Ngu Hanh Son Province
Non Nuoc Fine art Village is located in Hoa Hai Ward, Ngu Hanh Son District. Most of the visitors coming to the Five Marble Mountains will pay a visit to Non Nuoc Fine Arts Village, where nationwide and worldwide famous marble handicraft works are produced.
The Non Nuoc Fine Arts Village has a three or four-hundred-year history. This is affirmed by some steles which still remain at some ancient pagodas in the Quang Nam Province. Currently, there is a temple of the "Marble Fine Arts Founders" at the well-known spot of the Five Marble Mountains, and many ancestor anniversary activities take place largely in this village on the sixth day of the first lunar month every year. Many gardens of statues have their back to the mountains. So, the overall artistic spaces of these gardens are arranged skillfully thanks to the outside landscape.
You could be very interested in and surprised by the artistic stone works exhibited here. Polished, petite and sophisticated statues are presented with both traditional and modern motives and taken to parts of the world by visitors.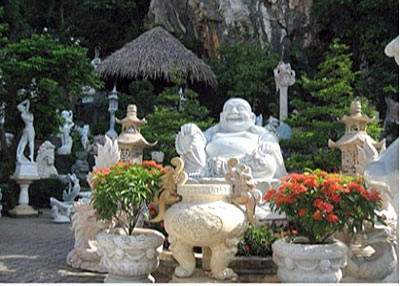 With just an amount of time, lifeless stone has become a lively thing with the human spirit through the craftsmen of the Non Nuoc Fine Arts Village. It is certain that this process takes place in many work stages, including extremely difficult ones. The happiness with the completed works, the admiration of connoisseurs and also the benefits from the job united the people of this fine arts village in their careers.
>> VIETNAM TRADE NEWS


Quality Control Inspection Services in Vietnam from Vietnam B2B Direct
Vietnam B2B Direct has been delivering affordable, on site at factory premises in Vietnam, Quality Control Inspection Services and Quality Assurance for over 18 years. ... [Read More...]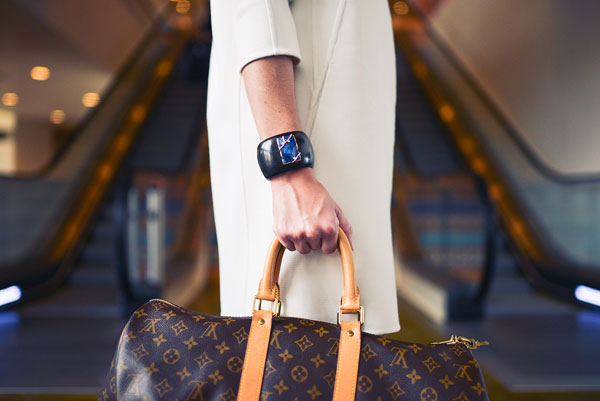 The Bag Industry in Vietnam: Product Sourcing and Low Cost Manufacturing Solutions in Vietnam The modern day bag industry in Vietnam has its roots in a rich cultural history of handicraft artisans ...
[Read More...]
>> BILL GADD, CEO


An International Entrepreneur and Business Leader multi-skilled in business start-ups, marketing, sales, administration, management and leadership for the past 33 years. ...
[Read more ...]
>> MANAGEMENT GROUP
Vietnam B2B Direct's Management Group consists of well educated English-speaking Vietnamese Personnel in its Vietnam operations trained in western business practices.
Our management expertise includes Sourcing Agent Specialists, Business Development and Sales Reps, IT Programmer, Quality Control Engineer, Administration, Field Agents and Content Marketing & Website Management... [read more about Vietnam B2B Direct's personnel ...]
>> CONTACT US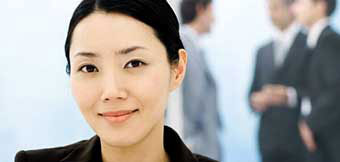 Vietnam B2B Direct - International Trade Solutions Co., Ltd.

Head Office in Vietnam
2A / 20 Bach Dang Street
Ward 2, Tan Binh District
Ho Chi Minh City (Saigon), Vietnam
TEL +84 (0) 28 3844-7055
FAX +84 (0) 28 3842-3662
North American Offices 1-905-376-1700

Download our Company PowerPoint Presentation & Company Profile



Vietnam B2B Direct - International Trade Solutions Company Profile



Vietnam B2B Direct Fact Sheet
For details of new business opportunities and for all your sourcing needs of products and manufacturers in Vietnam, please contact Vietnam B2B Direct ...