Craft Villages of Vietnam Part 2

Tra Que Herb Village of Quang Nam Province
Located between De Vong River and Tra Que alga pond, Tra Que is a small village located 3km north of Hoi An's Old Town. Thanks to the advantage condition of rich soil and water, the village has long been known for growing various kinds of vegetables: lettuce, salad, flagrant knoutwed, houttuynia, basil and coriander vegetables etc.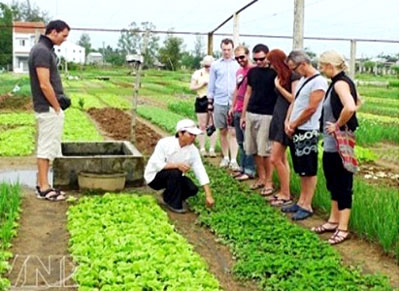 What often attracts visitors to Tra Que Village is watching the farming procedures of local farmers, including: raking the ground, sowing, picking vegetables and many other activities which are rarely seen in modern daily life. In addition, tourists can listen to people talking about organic farming techniques and try their hand at actual farming. The locals don't use chemical or fertilizers but a kind of algae found only in a lagoon in Tra Que. Thanks to this method, Tra Que herbs and veggies are widely recognized for their quality, safety and especially outstanding taste and flavor.
The beautifully laid out gardens with mixed beds of vegetables and tiny flowers are also attractive enough for a bicycle tour around, prior to lunch at local friendly families with wonderful food of Hoi An such as: cao lau, Quang noodles, banh xeo, etc and some kinds of drinks extracted from local herbs.
Besides, joining some cooking lessons provided by tourism companies isn't a bad idea either. It's amazing when you can cook Vietnamese food by yourselves and learn how food is grown in Vietnam.
Thanh Ha Pottery Village of Quang Nam Province
Pottery is not just a significant and traditional craft in Vietnam, but also an important means of livelihood. The Thanh Ha Pottery Village in Hoi An is a famous example in this type of an establishment that aims at furthering tradition as well as employment. The Thanh Ha Pottery Village in Hoi An is located in the Quang Nam Province in the Thanh Ha ward; Hoi An lies 3 Km to the east of it. The pottery village has a long historical legacy attached to it.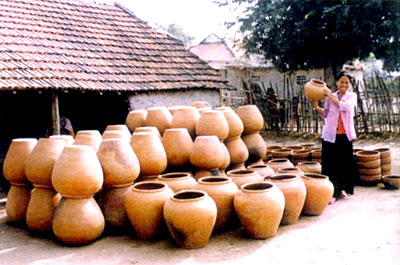 Dated back to the time when the Nguyen Dynasty of Hue invited craftsmen from the Thanh Ha Pottery Village to fashion some decorative as well as useful articles for the palace, this one event gained them sufficient renown to last them a lifetime. Henceforth, the village began a Mandrain system of grading craftsmen according to their talent. The most talented held the ninth position. The pottery at the Thanh Ha Pottery Village in Hoi An are all manually crafted and are exported world over. The techniques that they use are unique from those prevalent in other provinces. The Thanh Ha Pottery Village in Hoi An crafts decorative articles along with useful items like cups, jars, bowls and pots. The flower pots made here are particularly sought after.
The Thanh Ha Pottery Village in Hoi An used clay mixing techniques, burning and baking time and heat modulations to bring out different colors like pink, pinkish-yellow, red, light brown and ink-black in the wares. The craftsmen also modulate all these aspects to achieve immense durability in their products. Aside of the regular articles, the Thanh Ha Pottery Village in Hoi An is also renowned for its bricks and tiles of various shapes and sizes. In fact its bricks and tiles are sourced out to the entire local as well as many foreign regions. It is the most trusted name for contractors engaged in tasks of renovation.
Dong Ho Painting Village of Bac Ninh Province
Located to the left of Duong River, Dong Ho Village is famous for its painting and has become an aesthetic symbol of Vietnam's culture. From over 100 families in the 1950s, currently there are only a handful of families still making the traditional craft. Most villagers have now turned to joss paper making, since the regulation has relaxed and again allowed for religious practices that were once deemed "unfit of the revolutionary". The families of Nguyen Dang Che and Nguyen Huu Sam both run their own galleries and employ a number of workers. To everyone's relief, the essence still remains and thrives.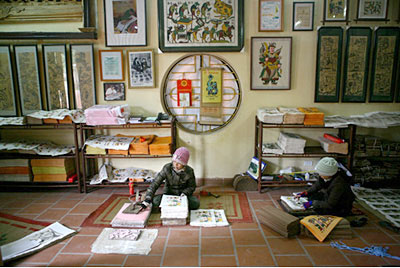 Dong Ho painting is often made to reflect the wishes for lucks and perception of everyday life in the village. The most common theme are often animals (with goodluck symbol on them), everyday life (Jealous Fight or A Market Day), and folk tales (Saint Giong or The Frog Teacher). The paper used for the painting is made from bark tree, then the texture can retain color for a long time. Each family develops their own mold for the painting, and each mold are then replicated and filled with a separate share of color. People make painting by stamping the mold into the paper, one at a time to add more and more color to the picture.
In general, Dong Ho paintings are simple, meaningful and created for the mass. Patrons used to come from agricultural and low-income families, some of them are illiterate and cannot afford other more exquisite at works. But the meaning is the painting is, by no means, sub-par. It reflects both reality and dream of the people. Dong Ho these days has also expanded its tradition, and many new products have taken form, among them xyloglyphics and combined-medium works.
>> VIETNAM TRADE NEWS


Quality Control Inspection Services in Vietnam from Vietnam B2B Direct
Vietnam B2B Direct has been delivering affordable, on site at factory premises in Vietnam, Quality Control Inspection Services and Quality Assurance for over 18 years. ... [Read More...]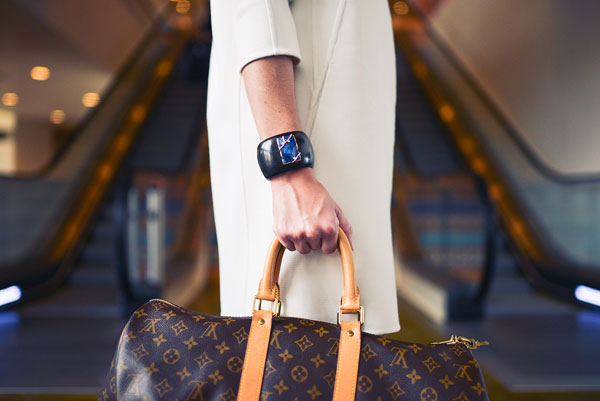 The Bag Industry in Vietnam: Product Sourcing and Low Cost Manufacturing Solutions in Vietnam The modern day bag industry in Vietnam has its roots in a rich cultural history of handicraft artisans ...
[Read More...]
>> BILL GADD, CEO


An International Entrepreneur and Business Leader multi-skilled in business start-ups, marketing, sales, administration, management and leadership for the past 33 years. ...
[Read more ...]
>> MANAGEMENT GROUP
Vietnam B2B Direct's Management Group consists of well educated English-speaking Vietnamese Personnel in its Vietnam operations trained in western business practices.
Our management expertise includes Sourcing Agent Specialists, Business Development and Sales Reps, IT Programmer, Quality Control Engineer, Administration, Field Agents and Content Marketing & Website Management... [read more about Vietnam B2B Direct's personnel ...]
>> CONTACT US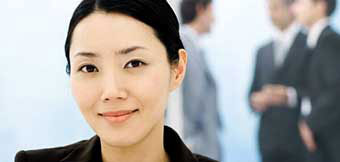 Vietnam B2B Direct - International Trade Solutions Co., Ltd.

Head Office in Vietnam
2A / 20 Bach Dang Street
Ward 2, Tan Binh District
Ho Chi Minh City (Saigon), Vietnam
TEL +84 (0) 28 3844-7055
FAX +84 (0) 28 3842-3662
North American Offices 1-905-376-1700

Download our Company PowerPoint Presentation & Company Profile



Vietnam B2B Direct - International Trade Solutions Company Profile



Vietnam B2B Direct Fact Sheet
For details of new business opportunities and for all your sourcing needs of products and manufacturers in Vietnam, please contact Vietnam B2B Direct ...