Vietnam is a Breeding Ground for Start-up Manufacturing Projects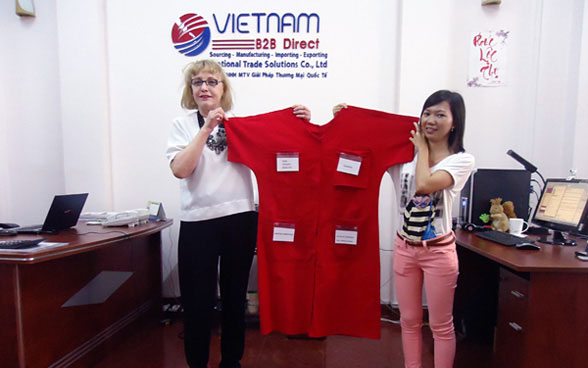 Entrepreneur Jeanne Mattick (USA) with Nhung Nguyen of Vietnam B2B Direct displaying the prototype of Ms. Mattick's innovative Institutional Hospital Gown, currently being sourced and developed in Vietnam.
From concept to prototype to low cost manufacturing to eventual sales and distribution, companies from Australia, Canada, the USA and from the Euro Zone are taking advantage of the benefits offered from low cost manufacturing in Vietnam in the development of their start-up businesses and new products.
And we think some truly innovative products are being manufactured in Vietnam for global markets.
"Yes, we have seen over the years a number of start-up companies with innovative ideas looking to Vietnam to develop their products" states Bill Gadd, CEO of Vietnam B2B Direct.
"And rightly so, as Vietnam offers a low cost manufacturing alternative solution to China, aptly called China Plus One, a strategy that many people are catching onto throughout the world."
Also, manufacturers in Vietnam are keen to position themselves at the front end of potential world class products and offer experienced support with ideas and suggestions, such as material selection and material alternatives.
"Over the years our worldwide client base includes many start-up businesses, not just the multi-million and billion dollar sales organizations that use our services, but include innovative individuals and SME businesses" Bill Gadd, CEO Vietnam B2B Direct
Gadd states that he also likes the fact that Vietnam offers a fair degree of Intellectual Property Protection as Vietnam Manufacturers have not ventured out into the world as Sales Organizations unlike Chinese manufacturers. They are quite willing to sign the appropriate documents to protect the Buyers.
Being a lifelong entrepreneur himself, Gadd appreciates the devotion of his clients in developing their products. Some of the innovative start-up products that we have had a chance to work with their owners over the years include:
Exercise Backpacks
Motorcycle Backpacks
Surgical Bed Sheets
Innovative Wood Furniture
Paper Tablet Notebooks
Bamboo Stools (Chairs)
Hand-made Christmas Ornaments
Biodegradable Plastic Bags
…….and the list goes on!
Finally, there is also an additonal industry not mentioned that would find Vietnam's low cost manufacturing and supporting busines and legal services beneficial, that industry is the Pet Industry.
For more detail about about manufacturing your pet products in Vietnam, read our article 'Consider Vietnam as a source of low cost manufacturing for your pet products'
Vietnam B2B Direct can be your trusted partner in Vietnam
Choosing a Southeast Asian country like Vietnam for low cost manufacturing entails extensive market research and due diligence. It is imperative for a company to a find reliable local partner with a long history of operating in Vietnam that can help you directly in considering furniture manufacturing, in Vietnam.
You need to have a partner that understands the business climate and culture of Vietnam.
Vietnam B2B Direct's Management Group consists of well educated English-speaking Vietnamese Personnel in its Vietnam operations trained in western business practices.
And, it is important to be able to consult and communicate directly with your local expert in Vietnam that can provide insight on local markets and how these markets are likely to change in the short and the long term.
Vietnam B2B Direct's focus is on building trade agreements between worldwide companies and Vietnam businesses by providing full supply chain management services in sourcing, manufacturing, importing and exporting.
Contact Mr. Bill Gadd at billgadd@VietnamB2BDirect.com to discuss your plans for sourcing a low cost manufacturing solution in Vietnam… or complete our inquiry form here …
>> VIETNAM TRADE NEWS


Quality Control Inspection Services in Vietnam from Vietnam B2B Direct
Vietnam B2B Direct has been delivering affordable, on site at factory premises in Vietnam, Quality Control Inspection Services and Quality Assurance for over 18 years. ... [Read More...]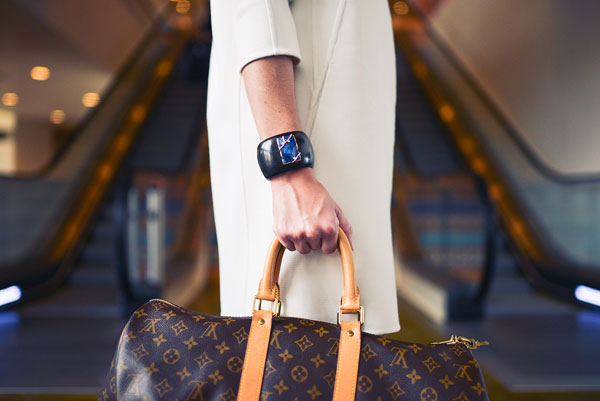 The Bag Industry in Vietnam: Product Sourcing and Low Cost Manufacturing Solutions in Vietnam The modern day bag industry in Vietnam has its roots in a rich cultural history of handicraft artisans ...
[Read More...]
>> BILL GADD, CEO


An International Entrepreneur and Business Leader multi-skilled in business start-ups, marketing, sales, administration, management and leadership for the past 33 years. ...
[Read more ...]
>> MANAGEMENT GROUP
Vietnam B2B Direct's Management Group consists of well educated English-speaking Vietnamese Personnel in its Vietnam operations trained in western business practices.
Our management expertise includes Sourcing Agent Specialists, Business Development and Sales Reps, IT Programmer, Quality Control Engineer, Administration, Field Agents and Content Marketing & Website Management... [read more about Vietnam B2B Direct's personnel ...]
>> CONTACT US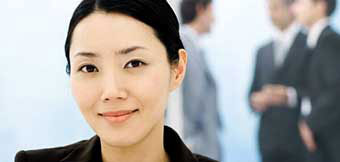 Vietnam B2B Direct - International Trade Solutions Co., Ltd.

Head Office in Vietnam
2A / 20 Bach Dang Street
Ward 2, Tan Binh District
Ho Chi Minh City (Saigon), Vietnam
TEL +84 (0) 28 3844-7055
FAX +84 (0) 28 3842-3662
North American Offices 1-905-376-1700

Download our Company PowerPoint Presentation & Company Profile



Vietnam B2B Direct - International Trade Solutions Company Profile



Vietnam B2B Direct Fact Sheet
For details of new business opportunities and for all your sourcing needs of products and manufacturers in Vietnam, please contact Vietnam B2B Direct ...